http://en.memory-alpha.wikia.com/wiki/P ... nse_system
http://en.memory-alpha.wikia.com/wiki/E ... se_Network
http://www.startrek.com/database_article/Earth_1997-10-06-00-00-00

wrote: Earth enjoys one of the most advanced, peaceful, and materially pleasant cultures of any known.  There has been no case of terrorist bombing or a State of Emergency, other than the Borg attack of 2366-67, reported in over a century prior to the Antwerp Conference incident and the Changeling scare of 2372. It appears to have no self-government in the Federation, fully subjecting itself to the multi-world direction of the Federation Council and its president, who is authorized to enact a state of emergency.

Its worldwide power-relay system is run by the Division of Planetary Operations to operate sensors, transporters and surface-based defense installations. Starfleet has its own emergency back-up system.
http://www.chakoteya.net/DS9/483.htm

wrote: ODO: You all right? 


SISKO: I'm fine. Admiral, what's going on? 


LEYTON: From what we can tell, Earth's entire power relay system's been knocked offline. Even Starfleet's emergency backup's been affected. 


SISKO: How could that happen? 


LEYTON: I don't know, but if you ask me, there's only one possible explanation. 


ODO: Sabotage. 


SISKO: The changelings. 


ODO: Take down the power relays, and you neutralise sensors, transporters, surface-based defence installations. 


SISKO: In other words, Earth is defenceless. 


LEYTON: If the Dominion attacks now, we don't stand a chance.
Earth has planet side defenses.
http://www.chakoteya.net/StarTrek/71.htm

wrote: SCOTT: Well, there's one last thing we might try. Perhaps the ship's phasers can cut through a section of the force field at its weakest point. Where did you say that was located, Mister Sulu? 


SULU: On the far side of the planet, Mister Scott.
http://www.chakoteya.net/NextGen/118.htm

wrote: Captain's log, stardate 41509.1. Either by chance or intent, we've been led to the planet Aldea, which appeared out of nowhere, hidden behind a sophisticated shielding device.

[Bridge]

DATA: Sensors indicate that the shield is electromagnetic, a complicated light refracting mechanism. 


PICARD: A cloaking device?
http://www.chakoteya.net/Voyager/407.htm

wrote: CHAKOTAY: If she's given the other ships temporal shielding, they've undoubtedly informed their home worlds. They'll be able to protect their planets against your weapon.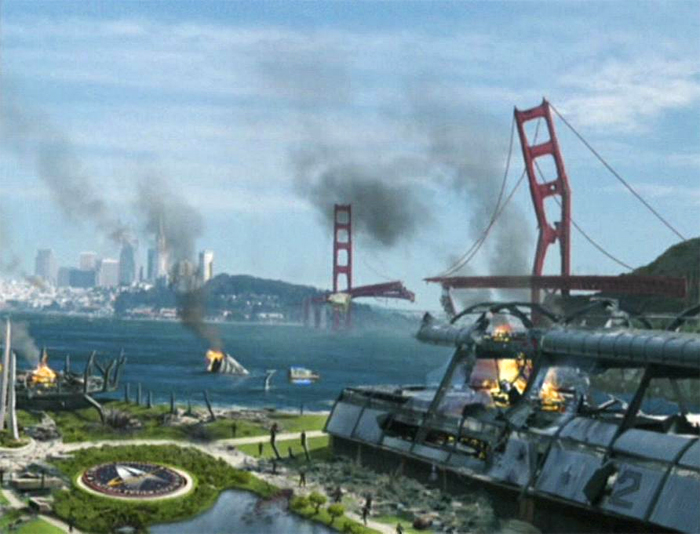 What we see is that full coverage planetary shields are really rather common, and given what is shown after and attack by the Dominion, we can conclude there is a strong likelihood that Sol-3 has a shield covering it.
Where the idea that Sol-3 has no defenses beyond random ships in the area, or that planet covering shields are a one off comes from is beyond me.